O' Flaherty's History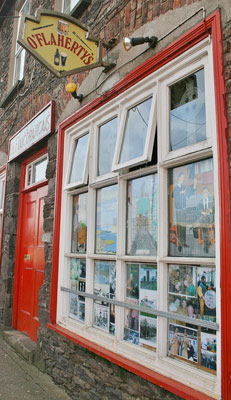 When it comes to traditional Irish music, language and culture, there are few pubs that compare with Tigh Tábhairne Ui Fhlaithbheartaigh, O'Flaherty's Pub, on Bridge Street, Dingle. Under the stewardship of publican Fergus Ó Flaithbheartaigh, O'Flaherty's is a trad mecca where the strains of the session continuously colour the night air.

From the original Valentia Island flagstones which date from the 1860s to the two mainstays in the bar rendered from a ship lost at sea; the pub itself is something of a historical hub; every inch of its walls adorned with photographs and memorabilia documenting the history of Dingle town. As the present day headquarters of the Dingle Fife and Drum Band, the Green and Gold Wrenboys and a place where the history of Dingle GAA is revered, this hallowed ground sums up the central role the pub has played in the life of Daingean Uí Chúis for generations.

"O'Flaherty's came to be in 1957," said Fergus, "my mother Molly and father Patrick, who was known as Paguine, established it after my father, who was a fisherman, broke his leg and had to give up fishing."

"My mother was a sister of Foxy John Moriarty, he and his wife Hanora moved their operation up to Main Street when my mother and father took it over."
"Prior to that the pub was under the stewardship of Nóin Kennedy and before that it was John O'Donnell's. The original people who built the place were the Kavanaghs; basically its history dates back to the 1860s."

Fergus, his twin brother Carl and his sisters Mazz and Eithne (RIP) are considered to be one of Dingle's musical families.

"In those days every pub had a shop and my father established a music shop here in O'Flaherty's in the 1960s and all of us grew up around instruments. I have memories of my father making bodhráns in the shop and selling accordions," said Fergus.

Fergus's father Patrick passed away in 1969 but Molly, Carl, Fergus and Mazz continued to run O'Flaherty's.

Fergus and Mazz are accomplished musicians; the banjo, guitar, tin-whistle, bodhrán and a range of instruments form part of their impressive repertoire. Eithne was also noted as a wonderful singer in her day.

They, along with the likes of fellow musicians Tom Lynch, Maidhic Dainín Ó Se, Bríd and Cillian Ó Briain, are part of the company that keep the spirits of Dingle alive with their powerful weekly performances. Sessions in the pub are plentiful and visiting musicians and singers from all walks of life and musical backgrounds are always welcomed and encouraged to join in and play in O'Flaherty's thanks to their open-door policy